If you're looking for a summer adventure, whitewater rafting and whitewater kayaking may be on your bucket list. These two popular tourist activities may sound similar, but there are significant differences in experience levels and safety. If you're not sure which river adventure is right for you, learn more about white water rafting vs. white water kayaking here:
What Is Whitewater Rafting?
With whitewater rafting, you can get the thrill of big whitewater waves without any experience. This makes whitewater rafting perfect for beginners and families.
The water level ranking system is separated into six different categories. Class 1 and 2 being easy, float trips, class 3 is beginner level, class 4 is advanced, and class 5 is expert. At Asheville Adventure Company, our rafting trips fall between class 2 and class 3+ rapids, but if you are at all worried about safety, Asheville Adventure Company's guides are always there to help.
In most whitewater rafting tours, you will be accompanied by a guide to keep you safe and on track. If you hit a bump and fall off the raft, experienced guides will be able to give you directions on how to swim to safety. Since multiple people are on each raft, you're also less likely to tip over into the water.
If you are traveling with a large group of people or have kiddos that you want to keep in sight, whitewater rafting is excellent because you can fit groups of up to 7 on each raft.
Overall, whitewater rafting is an excellent introduction to whitewater adventures and is perfect for families, kids, or even those thrill-seekers looking for an adrenaline rush.
What Is Whitewater Kayaking?
If you are up for more of a challenge, whitewater kayaking is for you! Whitewater kayaks are much different than rafts, and they require a bit more skill to navigate. Kayaks are small, and you are by yourself as you navigate through the water.
Our duckies (inflatable kayaks) are incredibly safe, and at Asheville Adventure Company, our kayaks are great for any skill level. Although for our Upper Green Kayaking Trip, we recommend those who choose to take a kayaking trip are in relatively good athletic shape and are comfortable swimming in the water.
Rapids on our kayaking trips fall between class 2 and 4, so it's a bit more challenging than whitewater rafting. If you are a beginner looking for a challenge or a solo adventurer, whitewater kayaking may be for you!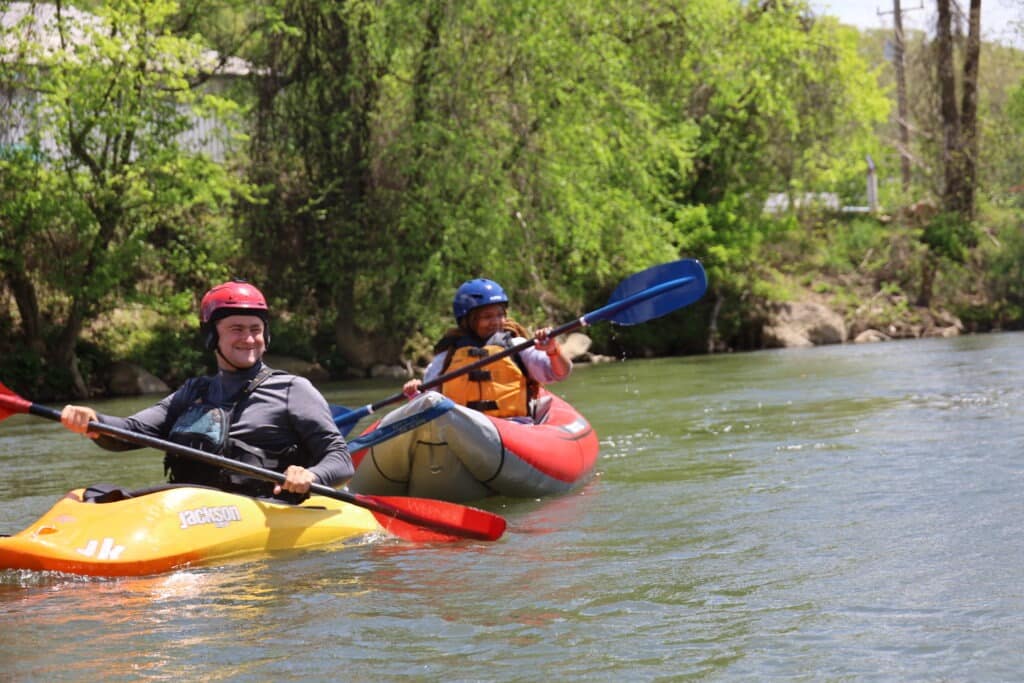 Whitewater Rafting vs. Whitewater Kayaking: Which Should I Choose?
If you're looking for a trip to do with the whole family, you may want to consider whitewater rafting. Asheville Adventure Company's French Broad Gorge Whitewater Rafting Trip is a beginner-friendly rafting adventure through the gorges of the French Broad River, and it's the only whitewater rafting tour of Section 9 that departs from Asheville! Even better? We supply all the gear and transportation for a stress-free experience.
If you are a fast-paced adventurer, try a whitewater kayaking trip. In our Thrilling Upper Green River Kayaking Trip, you will paddle through 5 miles of heart-racing rapids and make stops to take lots of pictures. We will begin each trip with an in-depth safety lesson, and each trip will have two experienced guides. We recommend that guests have some rafting experience, and if you are unsure if you are ready for this trip, book our Scenic French Broad Paddle before moving up to this trip. Our Scenic French Broad Paddle Trip is a great introduction to white water kayaking for beginners, and it was voted the #1 paddling trip in Asheville! If you're looking for a scenic (but exciting) trip, this one is for you!
Book your next adventure with Asheville Adventure Company
Ready to book an adventure you'll never forget? Book with Asheville Adventure Company on our website, and make sure to follow us on Facebook and Instagram to learn more!